You know how they say that March comes in like a lion and goes out like a lamb?
Yeah, my March was not so much like that.
It came in like everything was peachy keen and went out like chaos was descending. Specifically, the end of March saw me having my right eye go randomly wonky.
Per BB, "Why are you 'tending to be a pirate, Mommy?"
I started having blurry vision on March 31. By April 3, when it was still blurry enough that reading was impossible, I started visiting doctors. After a whole bunch of people poked me the eyeball (among other delightful medical care), it was determined that I have optic neuritis. It goes away on its own, but sloooooooooooooooooooooowly, so I opted for the steroid treatment.
I kind of hoped the steroids would make me hulk out and rage smash the patriarchy all by my lonesome, but it just made me really wakeful.
In any case, my wonky eye made it impossible for me to read for most of April, which made me Ms. Crankypants McGee. I have often said I'd rather give up ice cream than reading, and this little foray into non-reading made it clear that I'm not kidding.
I also did not get a chance to update my reading for March, so I'm doing both March and April together today. There were only two books in April (one of which was an audio book). Sad trombone.
Thankfully, my sight is enough back to normal that I have been able to resume my normal reading schedule, which I have been doing while eating ice cream, because I now realize you don't know what you've got 'til it's gone! So without further ado, here are the books I read in March and April: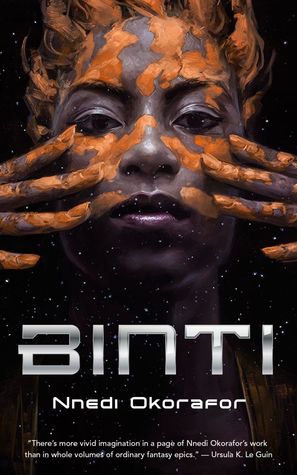 19.
Binti
by Nnedi Okorafor
I have been trying to read more books by women of color, and science fiction in particular is an area where I'd like to expand my horizons. I read a lot of white guy space opera sci-fi in my teens, in part because those were the books my dad had on his shelves, and in part because I saw them as the canon of the genre. But there was a lot of misogyny (which I noticed at the time) and erasure of anyone who was not white (which I didn't).
When I read that Binti by Nnedi Okorafor won both the Nebula and Hugo award, I decided I needed to read it. Binti is the first person of her very insular Himba community to leave, not only the community, but the planet. She's been accepted into the prestigious Oomza University, and is the first of her people to ever be offered a place there. On the way, the ship Binti is taking along with dozens of other new students is attacked by the war-like Meduse.
I absolutely loved the character of Binti and the descriptions of her people's relationship with the earth (literally) was incredible. The Himba "bathe" in specially mixed dirt from their home to moisturize and protect their skin and hair. I also loved how Binti thought in mathematics.
The novella was a little too short for me. The story definitely got me thinking, but the ending felt abrupt. This is the first in a trilogy, so I hope that reading the next two will help flesh out the things that felt too rushed in this one.
Started: March 1, 2018
Finished: March 4, 2018
20.
The Convent's Secret
by C.J. Archer
You may remember that I did the literary equivalent of unhinging my jaw and swallowed the previous book in this series whole. Well, this book arrived on my Kindle on March 6, as promised, and I lost a day to reading it.
Here's the thing: I was under the distinct impression that this fifth book was the final book in the series. And while a major plot point was tied up at the end of this book, as the Kindle got closer and closer to 100% complete, I found myself wondering how in blazes Ms. Archer would finish the other loose ends in the 2% left in the book.
Here's how: THERE'S AT LEAST ONE MORE BOOK IN THE G-DDAMNED SERIES, DAMMIT! Don't get me wrong. I'm enjoying these books very much. If the next book were already published, I'd be saying "Goody gumdrops!" and clearing my schedule for another day of reading. But I have to wait who knows how long before book 6 drops, and I have no idea if that will signal the end of this series or if I will have to wait for book 7!
I can't handle this kind of waiting!
Started: March 6, 2018
Finished: March 6, 2018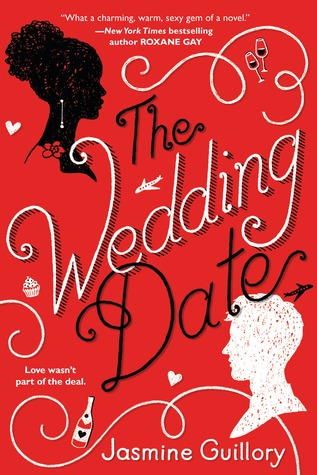 21.
The Wedding Date
by Jasmine Guillory
This sweet little romance was my book club's selection for March. It was a fun read, although it had the problem that I often encounter in straight romance novels: there were side characters and sub-plots that I wished the author would spend more time on. I wanted to see more about the difficult-but-close relationship Alexa had with her sister. I wanted to know what happened to Drew's patient Jack.
I did love how the book dealt with issues of race. They were realistic and straightforward. Drew (who was white) was hardly perfect in recognizing how difficult racial issues might be for Alexa (who was black), but he did listen to her, believe her, and respond empathetically to her.
Started: March 7, 2018
Finished: March 10, 2018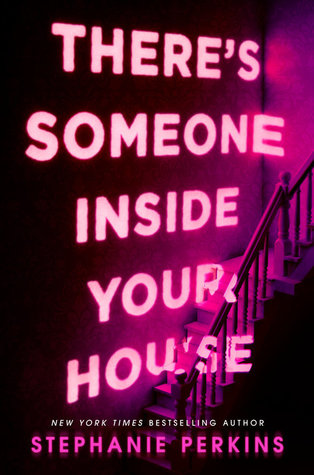 22.
There's Someone Inside Your House
by Stephanie Perkins
I really wanted to like this book. There was a lot to like.
It's kind of a literary version of the movie Scream, which was one of my favorites in high school.
Makani Young, the main character, is half black and half native Hawaiian, and it felt like Stephanie Perkins (who is white) did a good job of sensitively and accurately portraying race. (There is also a transgender character in the story, which also felt like it was handled well, although apparently there was some controversy over the ARC version of the book because it dead named the character.)
The love story at the center of the book (Perkins got her start as a YA romance novelist) is delightful.
But I was really frustrated by something Perkins did in this book. It's a slasher story, so there are a lot of people being murdered throughout the book. I don't have a problem with that--it's what I signed up for. My problem was with the fact that Perkins spent several pages before each murder giving deep back story to the person who was about to die.
I EFFING HATE THAT.
It's a short cut that authors take to try to make the stakes higher for the reader. But readers don't know these characters who are about to die, and giving us back story about their 6 year old twin siblings sleeping upstairs and their college essays and their solo in the school musical does nothing to truly raise the stakes.
It also feels
monumentally unfair to these characters
. Now I know they're not real, but still--
why create a fully formed character just to kill him or her off?
Started: March 13, 2018
Finished: March 16, 2018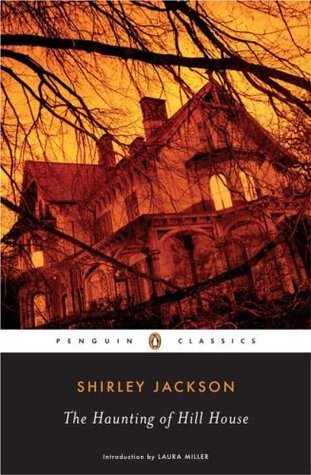 23.
The Haunting of Hill House
by Shirley Jackson
I am so annoyed at myself for not having read this book 25 years ago. I would have eaten this up with a spoon when I was 14 or 15, and it so clearly influenced so many of the haunted house books that I have loved over the years.
The only thing that makes me glad I didn't read this until now is the fact that I would have completely and utterly missed out on the homosexual undertones between Eleanor and Theodora, which still *mostly* passed me by as I read them now. (I recognize that what was strongly suggestive in 1959 is blink-and-you'll-miss-it tame in 2018, but I am also really dense when it comes to that kind of suggestion because I take things at face value. When Theodora describes the woman she lives with as her roommate, I believe her that it's her roommate.) Had I read this in my teens, I would have been completely oblivious to that aspect of the story, and my understanding of the novel would have been the poorer for it.
Started: March 19, 2018
Finished: March 21, 2018
24.
Ghosts
by Raina Telgemeier
There is a little library on the corner down the street from our house. LO and I pass it on the days we walk home from school, and I can never resist taking a look at what books are on offer there. On a Thursday in March, LO and I walked home from school and stopped to look at the books. LO noticed this one and asked if we could take it home.
I was surprised. He's very sensitive about death and he doesn't like scary stories. But when we got home, we sat down together and read this entire graphic novel in one sitting. It is so lovely. It offers a gentle introduction to Cystic Fibrosis and gives a lot of context to the Day of the Dead and offers a hopeful and sweet vision of what death means. LO and I both loved it.
Started: March 22, 2018
Finished: March 22, 2018
25.
Brazen: Rebel Ladies Who Rocked the World
by Penelope Bagieu
I don't remember where I read about this book, but I was delighted to learn that there was an illustrated book of incredible women. Each woman gets a brief autobiographical sketch in the form of a comic, and I learned about a number of women I did not know. Some of my favorites were
Katia Kraftt, a volcanologist who was fearless in her pursuit of knowledge about volcanoes and died (along with her husband and fellow volcano observer Maurice) in a pyroclastic flow in 1991.
Leymah Gbowee, a Nobel Peace prize winner who led a women's peace movement to bring an end to Liberia's second civil war. She did this after leaving an abusive husband with four children in tow.
Christine Jorgensen, a trans woman who was the first person in the United States who was widely known for sex reassignment surgery. She became famous, and handled her notoriety with wit, grace, and candor.
Started: March 18, 2018
Finished: April 1, 2018
26.
Street of the Five Moons
by Elizabeth Peters
It's hard for me to believe that I never read this book. It's the second in the Vicky Bliss series, and Trojan Gold (the fourth book in the series) is one of my favorite books of all time. I've re-read it more times than I can count. Street of the Five Moons is the book in which Vicky first meets her lover, Sir John Smythe, and I am so surprised that I was never curious enough to read about their first meeting.
Sadly, reading this now made it clear that you can never go home again.
I
love Elizabeth Peters/Barbara Michaels
. Her books (of which there are about 80) are probably the single greatest influence on my reading and writing. I have read nearly every single one of her books, and I have re-read and re-re-read (and so on) my favorites to the point where I have committed several of them pretty much to memory.
But Elizabeth Peters has a woman problem. Despite the author being a professed feminist, there is an undercurrent of misogyny in her books that I missed when I first consumed all of them as a teenager, but I cannot ignore when reading them as an adult.
The way it looks is that Vicky Bliss (or Amelia Peabody or D.J. Abbott or any of the other heroines) stands out in her field. She is brilliant and funny and under appreciated and underestimated. But Vicky (and Amelia and D.J.) seems to think she is in competition with every other woman. She never has a kind word to say about any other woman in the novel and is consistently cutting about other women's looks, intelligence, promiscuity, greed, age, educational attainment, etc.
In Street of the Five Moons, there are only two other women characters: an incredibly stupid and greedy young woman who is the mistress of a much older man, and a conniving "older" woman (she's described negatively as being over 40) who turns out to be a villain.
I know exactly where Peters's attitude comes from. Women of her day very often had to compete for a single spot made available for women. Peters herself was not able to get a job in academia in the 1950s after getting her PhD. because of sexism. Rather than rage against the unfair system that couldn't be changed, it's natural that one would start fighting with anyone else who might take your spot.
Between this and the fat shaming that so often appears in her books, I wish I knew how to compartmentalize all that I love about Peters's writing with these problematic attitudes.
Still, Sir John will always be my book boyfriend.
Started: April 20, 2018
Finished: April 26, 2018